Saké TOP 5: Dry Sake
In the U.S., the Sake Market has finally started to take hold, in part because they stopped referring to Sake in binary terms like "Sweet or Dry". But now many Sake menus will avoid the words entirely, opting for alternative descriptors such as "earthy", "minerally", or "bold". These can be helpful in deciding, but in Japan "Dry or Sweet" is usually the first and sometimes only criteria used when selecting Sake, so let's agree to acknowledge that Sake's depth and breadth has many dimensions - including semi-dry, semi-sweet, and neutral, and it's okay to use "Dry or Sweet".
Much of the cheap, mass-produced Sake of poor-quality also survive in the dry-realm. One example (that's right, I name names!) is the classic Ozeki One Cup. Keep in mind, they do still have their time and place - I drink and brew my own craft beer, but will drink a Coors Light on occasion, and the more abrasive, boozy characteristics of Ozeki's One Cup allow it to pair well with greasy food, like a four cheese pizza or BBQ pork. "One Cup" has also become an entire category, with many, craft Sake brewers offering excellent choices, so don't mistake this as condemning them!
With all of that in mind, here are my TOP 5 selections for Dry Sake. I rank these in order of my favorite, but ALL 5 are excellent. Other dry Sake not mentioned here will appear on future lists, including a Semi-Dry list, a Funky List, and other fun criteria to explore and consider.
5. Kanbara Bride of the Fox Junmai Ginjo
For a truly dry expression of Sake, you will want to try this! It has the sharp, clean finish the Japanese call the "
kire",
subtly spicy and earthy notes that lend to dark meat, buttery and oily dishes. Remember dry Sake like this is especially rich in amino and lactic acid, so avoid pairing with citrus/overly acidic dishes.
4. Tentaka (Hawk in the Heavens) Kuni no Miyatsuko Tokubetsu Junmai
An impressively balanced, deliciously dry Sake. Earthy without being musty or funky (two adjectives that I use lovingly, but are not flavors for everyone). For whisky drinkers, this might be your favorite of the five! It does not taste like whisky, but has complimentary tones you should appreciate. The importer recommends pairing it "with hearty grains, mushrooms, beef, lamb, and BBQ sauce".
3. Akagisan Junmai Ginjo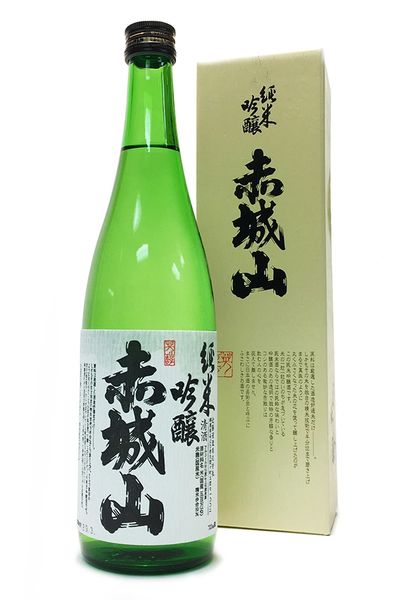 This is a deliciously dry, Sake with all the Ginjo notes of fruit and botanicals you normally find more in the "semi-sweet to semi-dry" range. The bright acidity tastes elegant, refreshing, and tart without being puckering. This pairs best with white meat, grilled fish, and hard, aged, or sweeter cheese.
2. Chiyomusubi Goriki Junmai Ginjo
Right away you will notice the difference Goriki, heirloom rice grown in Tottori, makes with its naturally bold and spicy flavor like a Shiraz. The rich, round mouthfeel and Junmai Ginjo (technically Daiginjo) polish and yeast give it a sophisticated, clean taste and finish. All of this makes for an extremely versatile Sake that can be enjoyed by itself, or with a wide variety of traditional and non-Japanese dishes.
1. Kan Nihon-Kai Ultra Dry Junmai Genshu
My ABSOLUTE FAVORITE dry Sake! Unparallelled balance, character, and complexity make this showstopper my top pick. The CEO of Nihonkai Brewery explained its creation to me this way: Every aspect has been dialed up: Umami, acidity, and alcohol. This Sake is an impressive +15 SMV, but balanced so perfectly, it ends up tasting smoother and
much
less dry
than sake like Koari or Kurosawa with SMVs of just +3. This heavyweight can stand up to and enhance the biggest flavored dishes like
Yakiniku
(BBQ) or
Uni
(sea urchin), but for an unbelievable treat, try sipping this with a rich, crumbly, French blue cheese or some Greek feta!
What do you think of these? Think I missed your favorite? Keep in mind I'm only choosing from Sake available in the U.S., but I would love to hear from you! Questions and comments are welcome below.